Response to Instruction is a Multi-Tiered System of Support for Instruction and Behavior that Supports Implementation of the Common Core State Standards.
NH Definition of RTI New Hampshire Response to Instruction:
(NH RTI) is a data-based decision-making process. It is inclusive of a multi-tiered system that supports effective core instruction, promoting academic and behavioral growth and achievement for each learner based on universal screening and progress monitoring. RTI is a systematic integration of all of a school's resources, including general education, special education, gifted education, Title I, and English Language Learning programs. Instruction, interventions, and supports are implemented with fidelity and are personalized and aligned with each student's academic, social-emotional, and behavioral needs based on current valid and reliable data.
"RTI and its Multi-Tiered System of Support is an integeral part of the newly defined four pillars from the NH Department of Education. It assists in the mastering of standards, the prioritization of instruction and the utilization of assessment to generate meaningful data upon which sound instructional decisions can be made. RTI focuses on student-centered learning that will improve our teachers' ability to effectively prepare students for college and future careers."
-----Virginia M. Barry, Ph.D, Commissioner of Education, NH Department of Education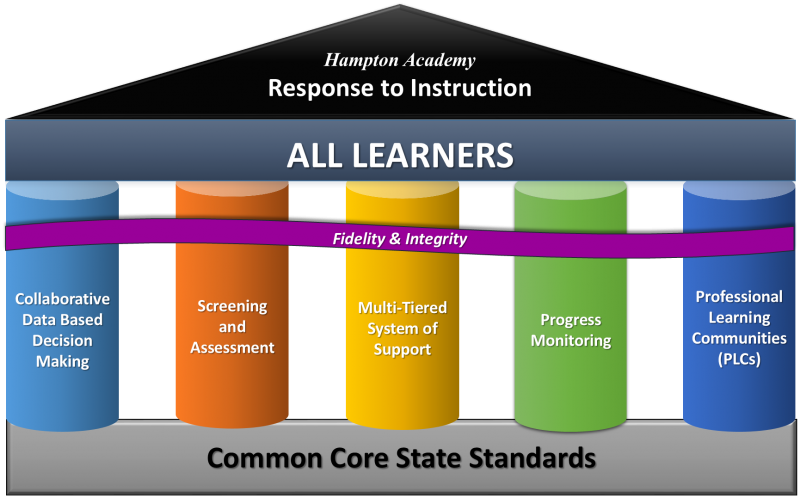 VISION
Hampton Academy will support academic and behavioral growth for every learner through systematic integration of data-driven, evidence-based decision making with integrity and fidelity.
MISSION
By June 2016, Hampton Academy will provide the highest quality instruction, best practices, and interventions that will match the needs of the individual student to ensure that all children reach their fullest potential. We will create a school-wide learning community utilizing universal screening, progress monitoring, assessment, and directed decision making that will provide academic and behavioral support to meet all student needs.
CORE VALUES
At Hampton Academy…
•We believe that every decision we make is for the benefit of the children we serve.
•We believe that decisions must be collaborative, data-driven and solution-focused.
•We believe intervention and enrichment plans must be determined on an individual basis.
•We believe that we are collectively responsible for each child's success. There is no "your student" or "my student", they are all "our students".
Kiersten Verno

Kim Reno

Kim Warburton

Nichole Willcox

Rick Considine

Sean Tierney

Shannon Adams

Tiffany Tobey

Principal

Assistant Principal

Reading Teacher

Math Teacher

Reading Specialist

Music Teacher

Science Teacher

Language Arts Teacher

World Language Teacher

Planning Room Supervisor

Science Teacher

Special Education Teacher

Special Education Teacher